OUR MISSION:
To help people follow Jesus by responding to God, relating to each other and reaching out to the world.
OUR MOTTO:
Live for God on purpose.
OUR HISTORY:
Life of Purpose Church began on Father's Day in 2005. Several families who live in Harrison Twp, Clinton Twp, and St. Clair Shores felt God's call to start a church that would make a difference in this community that hugs Lake St. Clair. Services began in a member's basement and later moved to L'Anse Creuse Middle School where we currently meet every Sunday morning.
OUR PASTOR: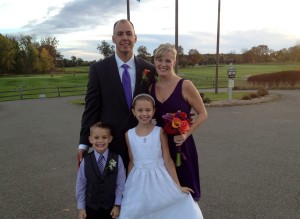 Pastor Matt Trombley along with his wife Jaime, daughter Elli, and son Ethan live in St. Clair Shores. They love family activities like swimming in the pool, going on bike rides and playing sports. Jaime is a 7th grade Math Teacher at Jefferson Middle School and Pastor Matt also teaches Math at Henry Ford II High School.
OUR VALUES:
Ø Authentic Worship (John 4:23; Matthew 22:37; John 14:15)
Ø Absolute Truth (John 14:6; 2 Timothy 3:16-17)
Ø Genuine Relationships (Acts 2:46)
Ø Excellent Work (Colossians 3:23)
Ø Purpose-Filled Lives (Romans 12:1-2; Luke 22:42)
Ø Service-Filled Love (John 13:34; Philippians 2:3-11)
Ø
God-Directed Actions (Matthew 5:16; Acts 1:8)