OUR MISSION:
We strive to help people follow Jesus by responding to God, relating to each other and reaching out to the world. We want to live for God on purpose.
OUR HISTORY:
Life of Purpose Church began in 2005 with just a few families that obeyed God's call to start a church that would make a difference in their community. The goal was to teach God's word and build great relationships. We began meeting in a member's basement and later moved to L'Anse Creuse Middle School for Sunday services. Throughout those 13 years, we were thankful to see many people begin and grow their relationships with God. At the beginning of 2018 we prayed and asked God to provide us with a building. He answered that prayer through a godly, generous man and we celebrated our first service at 20880 E. 10 Mile Rd in St. Clair Shores on September 9th, 2018.
OUR PASTOR:
Pastor Matt Trombley was called to Life of Purpose in 2006 as a bi-vocational Pastor. He also teaches High School Mathematics at the Utica Academy for International Studies. Pastor Matt loves fishing, basketball, duck hunting and golf, in that order. Mostly though, he loves spending time with his family. His wife, Jaime, teaches at Greenwood Elementary School and his two children, Elli and Ethan, keep him busy with music and sports. He also has a bird dog, Milli, that has endless energy.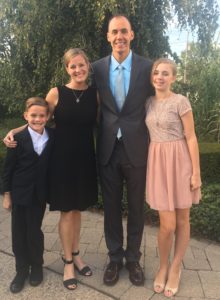 OUR CORE VALUES:
Authentic Worship (John 4:23; Matthew 22:37; John 14:15)
Absolute Truth (John 14:6; 2 Timothy 3:16-17)
Genuine Relationships (Acts 2:46)
Excellent Work (Colossians 3:23)
Purpose-Filled Lives (Romans 12:1-2; Luke 22:42)
Service-Filled Love (John 13:34; Philippians 2:3-11)
God-Directed Actions (Matthew 5:16; Acts 1:8)