Welcome

We believe God has a plan and a purpose for you which is best lived out with a church family that follows Jesus and loves one another.
Upcoming Events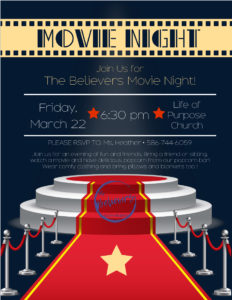 We invite local pre-teens and teens to join us for a fun and free movie night! To RSVP or have any questions please contact our Youth Leader, Heather at heather@lifeofpurposechurch.com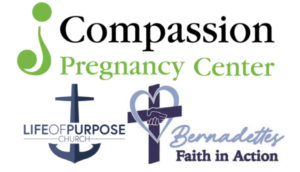 T

his March we are teaming up with Bernadette's Faith in Action in supporting Compassion Pregnancy, a local center where women can go for medical and spiritual support during their pregnancy at no cost to them. We are asking you for your help in donations. The items requested are listed below. Bernadette's is also holding a fundraiser Painting with a Christian Twist event on Tuesday, March 26th with all proceeds going to Compassion Pregnancy. We hope you are able to help us in supporting this great cause!
Any questions contact Bernadette's Faith in Action at 586-623-9371 or info@bfaithinaction.org
Donations Needed
-Pack N Play (New in box only)
-Car seats – all weight ranges (New in box only)
-New and gently used clothing up to size 4T
-Diapers size 4, 5, and 6
-Diaper wipes
-Diaper rash ointment
-Small baby items like pacifiers, socks, teething rings, onesies, etc.
-Gently used baby and children's books –
-Financial donations are always welcome