Welcome

We believe God has a plan and a purpose for you which is best lived out with a church family that follows Jesus and loves one another.
Upcoming Events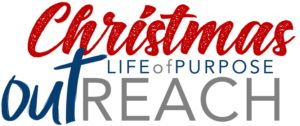 The holidays are a time of giving. It's easy to get caught up in gift giving to those near to you, but it's important to all of us at Life of Purpose to give to those who might not be as fortunate as we are.
This year we are accepting donations for Abigayle Ministries. Abigayle's is a local non-profit who provides shelter, emotional and spiritual needs for women during their pregnancy and postpartum care.
We are asking that you purchase a gift from the amazon link or the list located on our Facebook event page then bring your gift wrapped to be placed under our Christmas tree in the lobby. We would like to have all donations by December 23rd in order to be delivered for Christmas. We pray that you can help us give back this holiday season!
If you have any questions, please contact Chrissy Slack at chrissy@lifeofpurposechurch.com or 586-381-4852 ext. 1