Welcome

We believe God has a plan and a purpose for you which is best lived out with a church family that follows Jesus and loves one another.
Upcoming Events

We invite you and your family to celebrate Holy Week with us
at

Life

of

Purpose

!
Good Friday, April 19 @ 7pm
Join us for a special Prayer and
Easter Sunday Service @ 11am
Join us in celebrating the resurrection

of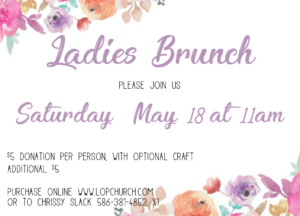 Please join us for a Women's Brunch on Saturday, May 18th at 11am. We will enjoy delicious food, fellowship and a special guest speaker. There is also an optional make your own T-shirt craft for an additional $5. You can reserve your spot for a $5 donation per person under the "giving" tab or by contacting Chrissy Slack at 586-381-4852 ext. 1, chrissy@lifeofpurposechurch.com. We would love for you and the women in your life to join us for a day of love and encouragement.